This article applies specifically to accounts that have the "Direct Google Sign In" option enabled. If you are unsure whether this is enabled for your institution, please contact your account Administrator.
Direct Google Sign In provides users with the ability to log in via Google while bypassing the Video Platform login screen.
Note: Sign in with Google is offered as a FREE service. Google Apps for Education (GAFE) is a core suite of productivity applications that Google offers to schools and educational institutions for FREE. If your school is using these applications, you will be able to use the video platform, Google Apps, and Google Classroom all seamlessly, without having to login again.
For more information on enabling or disabling this feature, please consult the admin portal help article.
Connecting your Google Account:
If you are logging in for the first time, you will be required to click the Allow button for this linkage to work. If you click Deny, your Google account will not be linked and you will have to start the process over again.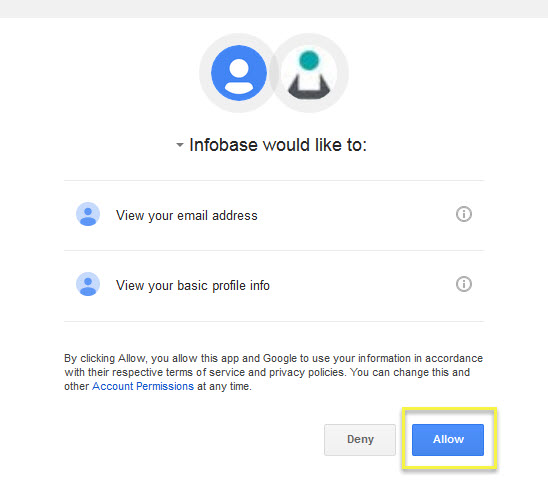 After clicking allow, your account will be successfully linked to a Video Platform user account.
Disconnecting your Google Account:
There are two ways to disconnect your Google account:
From within the My Profile page.
From within your Google account.
1. Removing access from within My Profile:
You can remove the account linkage by disconnecting the Google sign in from within the My Profile section.
Login with your Infobase user account or click on the Sign in with Google button to log into the platform.
Once logged in, click on the Welcome menu at the top.
Click on My Profile.
Locate the Connected Social Accounts section.
Click on the Connected? toggle next to the Google logo to switch it to the OFF state. It should currently be set to a blue, ON.
Click Save Changes at the bottom of the page.
2. Removing access from within your Google account:
You can remove apps connected to your Google account directly from the My Account section of your Google account.
Login to your Google account: https://myaccount.google.com
Under Sign-in & Security, click on Connected apps & sites.
Under the Apps Connected to your account section, click on Manage Apps.
Locate the Infobase app and click on it to view options.
To remove the linkage, click on the REMOVE button as shown below. You will be asked to confirm this.
** NOTE - Removing the app from within your Google account only removes access to your Google account. It does not break the linkage between your Google account and your Infobase account. If you use the Sign In with Google button again, after removing access, you will be logged into the platform with the original Infobase user account again.
Google, google account, google login