Account administrators can access tools that will help them to customize the video portal through the Account Settings options.
The following customization options are available in this section:
Platform Preferences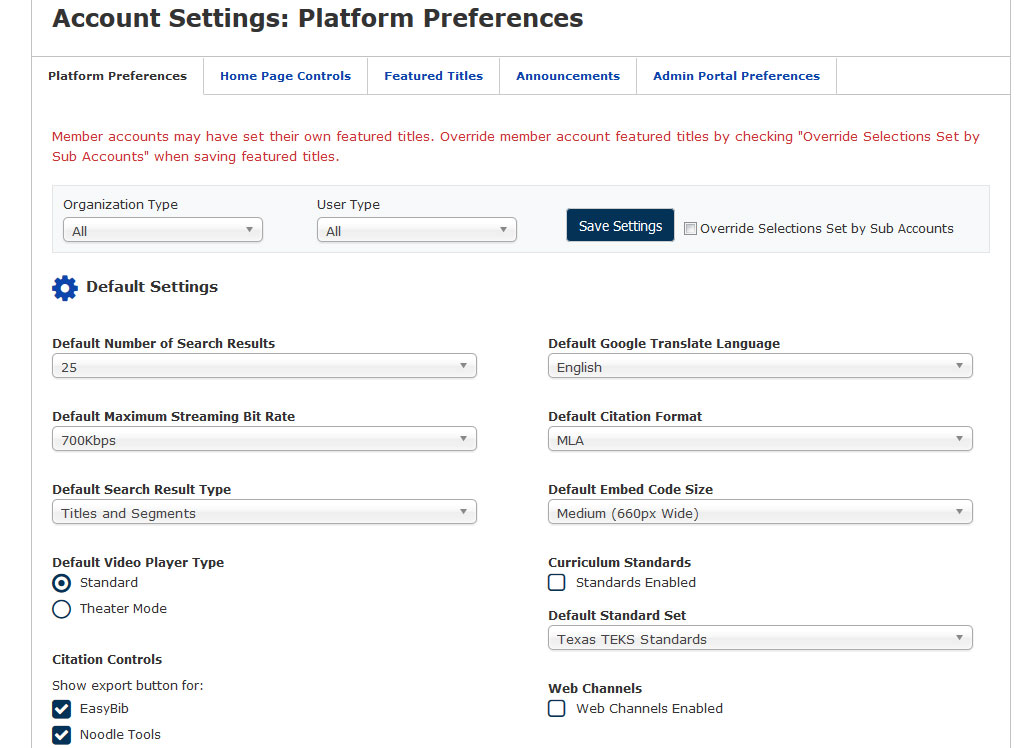 Admins can control the default settings for within the platform for their account, including the following:
Default Display settings: # of Search results, Search result type (Titles, Segments, Both), Google Translate Language, Video player type (Standard, Theater Mode), Search Filters Default (Open/Closed)
Maximum Streaming Bit Rate: Set a maximum (useful for low bandwidth situations)
Web Channels: On/off
Content Warnings: On/off
Embed Code settings: Default size, Embed code style, Secure on/off
Citation Controls: Default format (MLA, Chicago, APA, Harvard) and export options (EasyBib, NoodleTools, Refworks)
Playlists: Enable adding to search and copying within your account
Permitted Partner Apps: On/Off
Social Sharing: On/Off
Captions Settings: Font size, Font Family, Font Color, On/Off by default
Page Tools: On/off, Display order
---
Home Page Controls
Admins can control what sliders display on the home page and in what order.
---
Featured Titles
Admins can setup a featured title widget to display on their account's home page. Individual titles from your collection can be selected to include in the featured title widget.
Please note, if you are the admin for a consortia or group of schools/libraries you can now control the Featured Titles widget across different types of organizations and users.  To do learn more about how to do this, click here.
---
Announcements
Admins can create announcements to display in the Announcement window within the video platform. Multiple announcements can be added and displayed.
---
Admin Portal Preferences
Admins can control the default settings for within the Admin portal for their account, including the following: